The Story of Alex


Before

After

Alex was unable to walk, talk or hold his head up when we first met him in... After 3 months in our
kindergarten program he is sitting by himself, walking and we expect his first words any day now!
Here is the rest of his story: Alex is 3 years old and while he is not on par developmentally with
other children his age, he has come along way since we met him! Let's take a look at his story
and you'll see what we mean.

Alex is the youngest of 3 boys and he lives with his parents and brothers in a small village about
15 minutes outside of Anitgua called San Mateo. His family is extremely poor and until recently
were living in a small tin shack.
We were first introduced to Alex through Lys who runs an afterschool project in San Mateo
(you can read her story in our April newsletter also). Lys had some suspicions that Alex was
having some problems as when he was 2 years old, he could barely lift his head up let alone
sit, crawl or walk. We were able to help him get the testing that he needed to see where his
challenges lie and what kind of physical and other therapy he would need to progress his
development.
Now Alex attends the kindergarten that our sponsors help to support in San Mateo. Even
though the type of physical therapy is expensive, the teachers at the kindergarten are able to
do some of these simple things with him on a daily basis so he is still getting the therapy but
not needing to pay to go.

He is also receiving some speech therapy and is on the cusp of talking! So in just over a year,
this little man went from not being able to really move or interact with others to walking,
sitting in a chair by himself, feeding himself, and he is a very happy and interactive little
boy with many smiles! We are thrilled to be able to see how the constant presence of a
kindergarten in his community has brought joy and change to not only Alex but to his
family as well. His mother is very grateful for the help her family has received and is glad
that her boys have the opportunity to learn and go to school.



Your can read more about our Kindergarten Program here: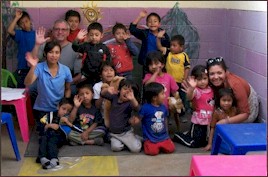 The Kindergarten Program was born in January of 2011 after
Mick and Debora were introduced to three siblings, Luisito,
Chente and Jimena. You can read their story and see before
and after photos below.


The Kindergarten Program provides each child with:




A safe environment in which to be a child.


Two meals and one snack per day.



A bath and a clean change of clothing.



The opportunity to play, socialize and learn.


Sponsor this program for:





The average child in Guatemala rarely has access to these possibilities.
We fund food, clothing, hygiene products, toys, furnishings, and one salary.
See more recent photos here.

How it all began: We went to have our weekly leadership coaching class with Lys Flores, the project director
of Semilla de Esperanza y Amor in San Mateo Milpas Altas, Guatemala, where the kindergarten is now located.
She told us that day about a very particular and most needy case.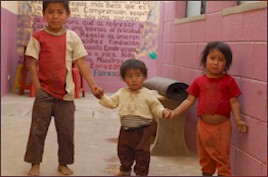 She told us about these three kids who needed help. Luisito (7),
Jimena (3) and Chente (1.5) who were just abandoned by their
mom; the father never was in the picture. The mom decided after
having three children that she had the right to look for a husband.
Her kids, of course were a big hindrance for her future plans, so
she simply decided to drop them at her mother's home and to
completely forget about them. The first day we met Luisito,
Chente and Jimena for the first time, this is what we saw:

Click to enlarge photo: No shoes, ever!

Now, back to our story. Dona Julia, the children's grandma, has 10 children in total including a girl, Grecia who was
6 years old and Minor who was 8. Most of the older boys are alcoholics, and the older girls are single mothers who
live with their babies in some part of Dona Julia's compound. The only ones working are Dona Julia and her
husband who earns $65 per month at his job as a security guard.
Luisito, Jimena and Chente were living in this environment surrounded by many irresponsible adults. The only one
who was taking care of them was the grandma, Dona Julia. But, she also had to work all day, picking up wood in the mountains to sell in the market, for almost nothing, in order to provide for everybody. As you can imagine, when
we first saw them we knew we had to do something and that to simply supply the family with food wasn't enough.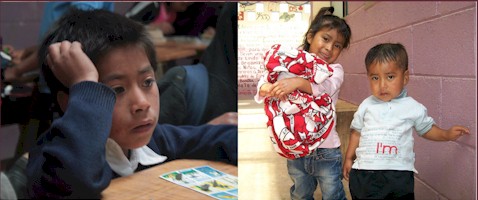 Luisito, the seven year old (left)
could not attend the school
because he had to take care of
his two siblings. So Chente and
Jimena's situation w

as
precarious. Not because
Luisito didn't love them, but
simply because he didn't know
better. They were all living in
a very sad and unhealthy
environment with no chance
of a better future. It was out of
their situation that the Kindergarten Program was born; out of the need to offer youngsters like these ones the
chance of education and better life.

The picture above was taken about six months after these three kids started in the kindergarten. Luisito can go
to public school because his siblings are attending this program. They only continue to improve!


Here is another picture of Luisito, Chente and Jimena in December of 2011, only 11 months after we first met them.

Luisito is attending normal school all year now and he got to wear for the first time in his life a new pair of shoes. Chente and Jimena are running around all day at the kindergarten, driving everyone crazy, but also filling us with the joy of their laughs, happy voices and big hugs.

They are healthy and clean and they are learning what is to socialize with other children and adults in safe and happy environment.

Since the kindergarten started, several more children have entered this program. Most of them are really shy at first yet all of them really happy after a while! We love this program and we love the kids and staff who are working with them.
We expect the program to keep growing throughout the years, to give more opportunities to new children from
the neighborhood who may be living in similar conditions as to how we first found Luisito, Chente and Jimena.
The smiles of these children are the best award, reward that we could ever imagine.
Thanks to all of you for making this happen!!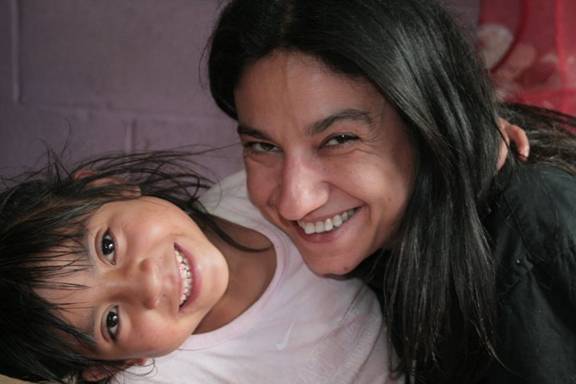 Debora, Mick, Liz, Marisol, Panchito, Bella and all at IHF.