43% of children under five are chronically malnourished, one of the highest malnutrition rates in the world.
More than half of the population is below the national poverty line and 15% live in extreme poverty. Poverty
among indigenous groups, which is 38% of the population, averages 76% and extreme poverty rises to 28%.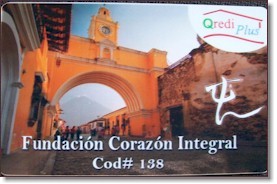 The Integral Heart Foundation is tackling the issue of
malnutrition in Guatemala in the following way;
1. Monthly Food Baskets:
As part of our Sponsorship Program we provide our
sponsored children and their families with a monthly food
basket. This contains protein, oils, and other nutritional
supplements that the family generally do not, or cannot,
include in their regular diet.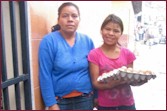 Since the beginning of this program in 2010 we have been
meeting the families at the local supermarket to purchase
these products with them. Starting in 2012 we are offering
each of our families a purchase card, as seen in the picture
above, that will be topped up a monthly basis. This freedom
and responsibility empowers the mothers to do their own
shopping (with certain restrictions such as on alcohol, tobacco etc.).